Product description
Material: Nylon, The wet compartment is made from translucent PVC material, which is using voltage technology, super waterproof performance. High quality nylon fabric and smooth zipper.
Color: Blue
Package Size: 42x21x3cm / 16.24×12.2×1.18 inches
Shipping Weight: 410g/0.9lb
Package Includes:  1 Gonex Swim Tote Bag
Features: 

Two ways to carry: comes with an adjustable and detachable padded shoulder strap, comfortable to carry across body.  Webbing handles for easy carry to and from the pool or beach. 

Moist separated compartment is specially designed for storing wet clothes after exercise.

We offer 2 Year Warranty. Any question, just feel free to contact us.
Dimensions of the bag:
THE BAG IS 15.75 INCHES WIDE, 10.24 INCHES HIGH (TOP TO BOTTOM), AND 5.51 INCHES DEEP.
The Pros
This bag has a dry compartment right beside its wet compartment, allowing users to place their dry clothes and wet clothes side-by-side within the same bag. This separation of items has a great application.  Swimmers can place their wet bathing suits, goggles and caps on one side and their lunch, snacks or toiletries on the other. Plus, this bag is roomy enough to fit a towel, a blow dryer, flip flops, goggles & cap, swimsuit, a make-up bag, and even a water bottle, with extra room to spare for dry clothes.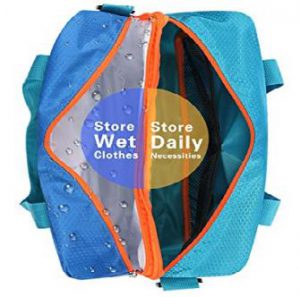 The size of this bag is deceiving. There is a lot of room on the inside. Because of its soft, cushy, nylon material, it expands nicely to accommodate!  Another nice quality of its size is that it can fit in lockers. School lockers are usually one foot wide, one foot deep, and typically five feet from top to bottom. Smaller gym lockers normally have more depth to make up for their lack of height.  In other words, the bag FITS!
The Cons
Because of its small size, though roomy, it can be too tiny for some. If you are looking for a traditional gym bag, this one may not be for you.  It is specially made for swimmers and their needs.  If you prefer not to have all your wet things tossed into a compartment together, this bag doesn't offer a remedy for that. One may not wish to have their swimsuit bleeding into their towel.
Let's Talk Price!
Price:  $20.99 Free Shipping for Prime Members on www.amazon.com.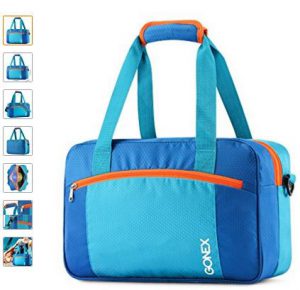 FREE Shipping on orders over $25—or get FREE Two-Day Shipping with Amazon Prime
Recommendation
This is a great bag for swimmers. There aren't many swim bags out there and this one has qualities addressing swimmers' needs with their wet clothing and dry items.  I would recommend this produce the Wet Dry Separated Swim Bag made by Gonex because it does what it says and it comes at a good price.
If you like this review, please leave a comment below.