Those who snorkel know the drill. Grab an eyes and nose mask, a breathing tube, fins and a life vest, clamp their teeth on the breathing apparatus and wrap their lips around mouth piece to create a tight seal. Then put on the mask to protect your eyes and prevent water from getting into the nostrils. Then jump in the water. While in the water, inhale and exhale via your mouth through the tube. SIMPLE!
Along comes this new product, Powerbreather Snorkel, with a brand new way of doing what many of us have been doing for years. What's so great about it?  Let's see if our old technique has been improved upon or if we should just stick with the tried and true, reliable method.  See Wave model below in ad.
Product Details for AMEO's Powerbreather Snorkels
---
Fresh air comes in through the top, and C02 expels out from the bottom
With Powerbreather's innovative membrane technology – no water comes in
There are five different models available – Sport, Lap, Wave, Beach and Adventurer
Usable in open water for freestyle, breast, butterfly, and side strokes
Dimensions – 13.5″ x 9″ x 3″
Weight – 7.8 ounces
One of the biggest differences between the traditional snorkel gear and the AMEO is that this one has a fresh air, Oxygen, intake through the top tubes, and snorkeler exhales Carbon Dioxide (C02) from the bottom mouth piece. This way there is no mixture of the two gases. Plus, according to AMEO, saliva doesn't get trapped in tubes either, but drains out. So, with this device, air is always dry and fresh.
Powerbreather Has 5 Different Models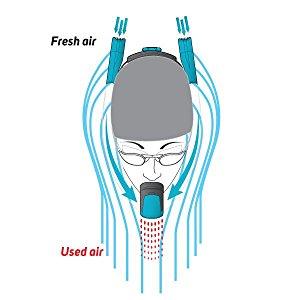 Sport – For $109.99 device is US Triathlon legal in most races. Great for endless pools where you never turn your head. Good in open water too.
Lap – For $129.97 includes 2 attachments; for head turning in swimming laps and doing flip turns for freestyle, breast, side and butterfly strokes.
Wave – For $149.99 includes 4 attachments; special caps and speed vents for choppy water, can do flip turns, open water or pool.
Beach – For $139.99 includes a face mask and sold as a set. Snorkeler may submerge in water, hold their breath and no water will get in. This model is good for triathletes, and lap swim for freestyle, breast, side and butterfly strokes.
Adventurer – For $129.99 no attachments required; the inhales valves only open when air hits them. This allow snorkeler to be submerged in water without leakage. Unlike the others, it's gray and black. Good for open water, and lap swim for freestyle, breast, side and butterfly strokes.
Pros
The head strap on these devices can adjust for 10-year-olds and up making this $100+ investment pretty good for the long haul.
One of the attachments allows swimmers to cut off one of the air intake valves, increasing resistance during their laps. In other words, this process can increase lung capacity.
Swimming without turning the head, allows for more concentration on the push, pull and catch technique.
With the Wave model, the air intake tubes can be extended to clear the water level in choppy water.
Each model comes with a carrying case.
Cons
There is a learning curve for this new technique. Although, swimmers and snorkeler are just breathing, the apparatus takes some getting used to. Some have described it as making them feel claustrophobic. With traditional snorkel gear if water seeps in, swimmer can easily rip equipment off, but with this it is not so easy and panicking can occur. Swimmer has to turn the strap knob to open then pull the device from their mouth and head.
Normal peripheral vision is limited, good for those who wish to concentrate on their stroke, but not for those used to seeing everything in and out of the water with ease.
There have been numerous complaints about shipments being received with parts missing and/or broken. AMEO does replace equipment promptly.
Traditional snorkel wear costs about $10-$30+ a set, and full face masks run anywhere from $25-$70.
Final Word on the Subject
If you want to work on your swimming technique without head turns and breath in fresh air, try this Powerbreather. Other than a few issues of getting used to this new technology, the benefits far outweigh the negatives in my opinion. I love snorkeling and have sometimes had issues with the traditional mask and goggles. While in Mexico on vacation recently, water kept getting into my mask and eventually I had to hold my breath underwater and lift my head occasionally to breath. I took in a lot of salt water because it was choppy out there in the ocean that day. I find that unless the water is calm, I generally don't have that much fun. This device gets high marks on its air intake mechanism too because breathing in carbon dioxide can result in rapid heart rates, dizziness, nausea, convulsions, and even death. For those of us who never want to get out of the water, breathing in fresh air is the way to go. NONE of the other snorkel devices have that ability. Take a look below at Coach Morg's full review of the AMEO Powerbreather below. I found this on YouTube and thought it was extremely helpful.
Please leave a comment below if you like this post.