Vasa Trainer Pro & Swim Training Bench Product Description
---
If an exercise machine can help with increasing swimming speed and endurance, wouldn't it be worth a try? We sure think so here at Swimfolk!
The Vasa Trainer Pro is an exercise machine that is specific in targeting muscular strength, balancing, coordination and core power, together with increasing speed and endurance. It works by using one's own body weight for resistance, making it ideal for safely developing one's natural form. It's 64 pounds and made of aluminum monorail and epoxy-coated steel, strong enough to raise the body on an incline and hold it their comfortably. It comes with a bench, pull-up strap bar, handles, paddles and a pulley cable system, stretch cord and a FREE training manual. Click here to visit their official website.


According to Vasa advertisement of the product, these are the claims given for use of their machine.
Building strength
Improving one's stroke technique
Developing core
Gaining leg power
How it Works
The Vasa Trainer Pro is a bench with pulleys on the front, and an adjustable sliding pad on the frame. Swimmer can lie down face down or face-up depending on which exercise is being performed; freestyle stroke drills, crunches, leg, biceps/triceps, back and chest. By sitting on the bench, swimmer can exercise shoulders and core.
See diagrams below.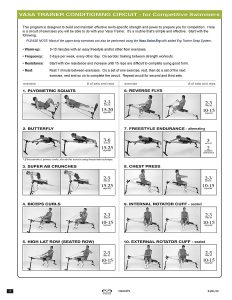 Pros
One of the biggest pros for this machine is that it's a great simulation to actually swimming in water. Also, by changing angle, using weight plates (to increase resistance) and cords, swimmer can receive practically a full body workout in 10-15 minutes. Machine is capable of 200 different exercises. Swimmers can do push and pull strokes, chin ups, work back, shoulders, legs and crunches for the core, to name a few.
The Vasa Trainer Pro is said to be awesome at teaching foundation strong catch (increasing swimming speed) as it builds strength. In fact, many swimmers prefer the Vasa to weight machines and traditional strength training because of its unique design, one can use hand/ankle weights and/or resistance bands making it easy on the joints. Those with back, shoulders, even knee problems have received excellent results witnessing increased range of motion by using this machine. This fact makes Vasa Training Pro a good choice for non swimmers as well. It's a great dry land trainer that owners have declared help to increase their speed, lap time.
Cons
Unfortunately, the elastic bands/cords rot and the metal frame and parts wear out and break. Although, many users have claimed to have had their machines for 10-20 years. Also, early on, Vasa didn't ship to all countries. Check with them directly to ensure that they ship to yours. Contact them at https://vasatrainer.com/blog/faster-freestyle-swimming-part-1/
Conclusion
Whether a swimmer, paddler, surfer, triathlete or sports enthusiasts, the Vasa Trainer Pro is a GREAT full body exercise machine. Plus, it can be used as an awesome therapeutic tool for low impact strength training. Machine allows users to work one part of body at a time (strengthening) or all together (aerobic). This flexibility covers a wide range of needs for a variety of people. Even those with long-standing injuries have expressed benefits from this machine's functionality.
Swimfolk believes in practicing one's swim strokes on dry land. With the Vasa Training Pro, this can be achieved easily and efficiently with noticeable results. We recommend this product.
If this post was helpful to you, please leave a comment below.